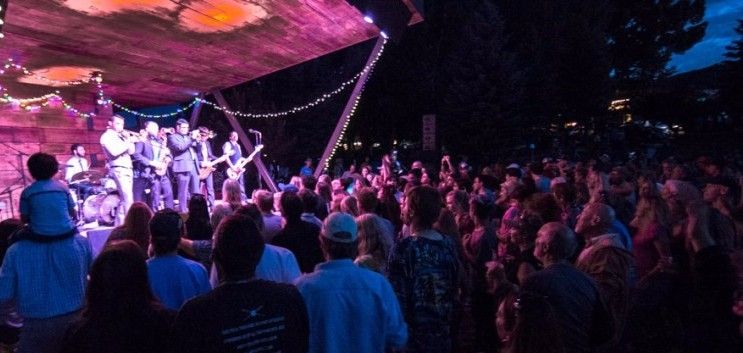 The City of Ouray and the Town of Ridgway, of Ouray County, sponsor free concerts on Thursday evenings in June and July each summer. The concerts are held in the town parks: Ouray's concerts are held in June; and Ridgway's concerts are held in July. There are generally two bands that play each evening to crowds in the thousands from all over, made up of all ages, from babies to nonagenarians. There are over a dozen vendors selling food, drinks, and merchandise as well as informational vendors. Children roam freely through the crowds, dance and engage in the children's activities offered, as well as play on the adjacent playgrounds. The concerts are a huge draw for crowds, that spend money benefiting the vendors at the concerts, as well as stores, restaurants, and hotels in the surrounding area. The economy is boosted and a good time is had by all!
Ouray County also benefits financially from the marijuana industry. The Town of Ridgway, with population less than one thousand, has four retail marijuana stores. Ouray County boasts several marijuana growing operations. Taxes from these businesses definitely help the local economy. The challenge with this source of revenue is that social norms have been extensively affected by the availability and saturation of cannabis in the county. Teenage 30-day use of marijuana in Ridgway Secondary school is higher than that across Colorado overall. Attitudes regarding marijuana are lax in the community, with teens perceiving that there is no enforcement of underage usage or public use of marijuana. The concerts were a prime example of that attitude being correct. During the summer of 2015, it was common practice for marijuana users to light up and smoke marijuana during the concerts, in plain sight, with thousands of people, including children roaming around, inhaling second hand smoke.
OCSCRC dba Voyager Youth Program employed CSAP (Center for Substance Abuse Prevention) strategies to address this challenge, by using both the Community-Based Process and Environmental strategies to effect change. Voyager's Executive Director met with the Mayor of Ridgway and discussed the issue with him, outlining the Colorado laws regarding public use and those addressing sponsorship of events/activities that include children and teens, which prohibits sponsorship by the marijuana industry. It was recommended that a public announcement be stated at the beginning of every concert, addressing clearly that it was not legal to use marijuana in public places, and that marijuana is not legal for use by anyone under the age of 21. The mayor agreed on the spot to make an announcement before each concert and asked that one be drafted for him to use.

How Simple Words Affected Change
The solution resulted in this statement being announced before each concert in the series in Ridgway: "Recreational marijuana is legal in the State of Colorado for adults over the age of 21. It is not legal to use marijuana in public, so please leave yours at home. We want to keep these concerts family friendly events."
The public announcement concerning marijuana had a definite positive effect on the overt use of marijuana during the concerts in Ridgway. During the summer of 2015, marijuana smoke was detected countless times, throughout the entire evening, including in the areas where children played and danced; whereas, during the summer of 2016, marijuana smoke was only detected on two separate occasions, late in the evening. The reduction in second-hand smoke was significant. 
This success was achieved through collaboration between OCSCRC-Voyager, the Mayor of Ridgway, Ridgway Town Council and Staff, and the sponsors of the concert series. This year, OCSCRC-Voyager will be approaching the City of Ouray to incorporate a similar public announcement at the beginning of the concert series held there in June. We project that endeavor will have as great as success as it has at the Ridgway Concert Series. We have also engaged the school districts to include a public announcement before sporting events that states: "Thank you for honoring that this school is an alcohol, tobacco, marijuana, and drug free venue." 
We are fortunate in Ouray County to have many agencies, organizations, business owners, and community members that are committed to keeping our youth healthy. Their dedication to our kids helped make this effort a success.