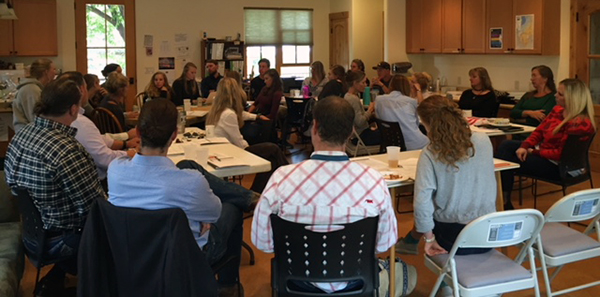 The Ouray County Communities that Care Coalition is pleased to share our final Community Assessment report as well as our individual workgroup updates.  You can find the report at http://www.voyageryouthprogram.org/ctc/overview.html.  The coalition is proud to share their accomplishments over the summer and are happy to be back in action for the new school year.
On July 20th, the Risk and Protective Factor workgroup met with our CTC coach, LaShay Canady, and two CU Boulder Technical Assistants who supported our revisions to the previous Community Assessment report written in early July.  Based on the analysis of the data and input from the community, the following risk factors were identified as priorities:
1.     Availability of substances
2.     Favorable attitudes toward substance use
We know that addressing one risk factor can affect multiple problem behaviors.  Our goal is to focus on these two risk factors in our community in order to influence the three main problem behaviors identified in our community:
1.     Suicidal Ideation
2.     30-day use of alcohol
3.     30-day use of marijuana
The report recommends that we create a community action plan to prevent youth health and behavior problems and promote child and youth well-being.  The Community Resource Assessment group met on September 7th to continue phase 3 of the program.  The next steps are to assess current resources and identify what is needed.  The workgroup will be conducting phone surveys and resource inventories to see what existing strengths we have in our community.   We will to find what programs are working and address any gaps that are missing.  We hope to make this a positive experience for all organizations in our community and support their existing efforts.  The group will present their findings on November 29th. 
The Community Outreach workgroup enjoyed managing the Voyager Youth Program lemonade stand at the Ridgway Concert series this summer.  They connected with community members and spread the word about CTC.  Collaborating with the Youth Involvement workgroup, they supported our youth in making announcements in the park about safe and appropriate marijuana and tobacco use in public.  The Community Outreach goals are to:
1.     Maintain Stakeholder relationships and support
2.     Communicate with Key Leaders
3.     Promote the Social Development Strategy in the community
4.     Embrace the City of Ouray by providing transportation and services
5.     Create and maintain more community buy-in
The Community Outreach workgroup is looking forward to holding a contest for the Ouray and Ridgway graphic design classes to create a Ouray County Communities that Care logo.
The Youth Involvement group is welcoming five new members, one from Ridgway High School and four from Ouray High School.  The group held a successful back to school party full of games, food and fun.  It was a great opportunity for new students to meet other youth from the area.  After receiving positive recognition from their community from the announcements in the park, they look forward to planning more events over the school year that provide leadership and community action opportunities.
The Community Maintenance workgroup has finalized an onboarding handbook for community members who have joined the coalition since its inception.  This allows the group to bring new members up to speed and educate them about the CTC process.  This is an important tool as the coalition seeks more community involvement. 
We welcome any community members to attend our meetings and join the Ouray County Communities that Care Coalition.  Please contact Lisa Thomason at executive.director@voyageryouthprogram if you are interested.  Keep an eye out for our next update in January.  For more information and previous updates visit: http://www.voyageryouthprogram.org/ctc/overview.html.